Buying a beach house: Closing the Deal
In my last post, Buying a beach house: Finding our Beach, I described how I scoured the whole east coast looking for a deal. This resulted in a lot of frustration but also a lot of learning. Finally, in 2016 we made it happen. In this third and final post, Buying a beach house: Closing the Deal, I'll describe how we pulled it across the finish line. As Paul Harvey would say, here is the rest of the story.
Murrells Inlet, SC

After searching up and down the whole east coast, I found a little place called Murrells Inlet, SC (also known as Garden City). It's about 20 miles south of Myrtle Beach, SC and lacks the high rises and "attraction" feel. The houses seemed to be good deals for what you get – at least compared to Folly.
I saw an ocean front 3200 sq ft 4br 2ba house listed for $784,000. Holy cow! It turned out that the listing agent included the space UNDER the house in the square footage (he later told me it was the square footage "under roof" – lame) so it was really only 1600 sq ft. Still not a bad deal, but it wasn't exactly what I wanted. I kept it on the short list though.
A little recon
I was intrigued with the area. There were a few other houses listed in the $800,000-$1,000,000 range and it seemed like you could get a lot for your money in this area compared to Folly Beach.
I told my wife "we need to vacation in this area this year and check it out". She didn't really like the idea of "Myrtle Beach" and neither did I, but neither of us had ever actually been here and were basing our opinions on what we had heard, not what we had seen. If we wanted a shot at an ocean front home we had to check it out.
We rented a beach front house in Surfside Beach, which sits between Myrtle Beach and Murrells Inlet. My wife would want you to know that we had an 8 WEEK old daughter and a two and a half (almost three) year old daughter at the time. Between naps and feedings we ventured out looking at houses.
We looked at the one mentioned above and while it was great in pictures it was very small in person. The photos made the back porch look twice as big as it really was. The kitchen, dining, and living room were all one long room that felt like a condo. Four small bedrooms were in each corner with Jack and Jill type bathrooms between them (two rooms and a bathroom on each side of the main living area.) It was ok, but not exactly what I had in mind. I honestly think that if the floors hadn't been a cheap laminate that was "troubled" I might could have gotten interested. It would have needed more work that I thought it was worth for such a small floor plan.
We looked at a half dozen more in person, and several dozen more than that online. We looked at one "second row" home that was absolutely stunning. But, it was priced too high for second row, and we really wanted to be ocean front – both for our own preference and also better rental income.
A fixer upper deal
I came across one that probably shouldn't have caught my attention, but it did. The house was plain looking on the outside with beige vinyl over old T1-11 siding. It was very outdated on the inside as well. There was a super dusty odor – not to mention a slight funk from old carpet in part of the downstairs, the tubs and showers were yellow, and the walls were covered with 1980's paneling.
But, it was an "actual" 2250 sq ft, 5 bedroom, 3.5 bath for $815,000 so we had to look. That was an incredible amount of bedrooms, bathrooms, and square footage for the money.
When we walked in, my wife pretty much wanted to walk out, and I did too. After a brief walk through, we left. Over the next few days it kept coming back to mind though. I think I really do have a thing for the ugly duckling property. I have plenty of stories to back that statement up. We went back and looked again. We started saying "well, if we could get the right deal … we could do this and that and move this and that". I had bought and renovated close to 50 rental properties in 10 years by that time so renovations didn't scare me.
The opportunity
I was dealing with the selling agent, which I almost always do, and was therefore able to get at some details quickly that helped me calculate the likelihood of a deal coming to fruition. The seller's dad had built the house after Hurricane Hugo, and she had inherited and owned it for quite a long time.
She lived an hour and a half away and was obviously struggling to try to maintain it herself. There were open and dried up paint cans sitting here and there, porch screen materials and tools laying out, etc. I could tell she was tired of doing this, and since it had been on the market for two years with no offers I figured she might also be getting weary.
We decided this was the one we wanted to go after. It had good bones and if we could get the right deal it could be a fun rehab project for us.
The deal
In a perfect (and fantasy) world we would have paid about $600,000 for this house. I told the agent I'd offer $500,000. He told me I was crazy. I said, "well I have nothing to lose". It needed a lot of work but we could do a little at a time between summer seasons. It would get us on the beach and we could slowly improve it as time and money permitted.
To my surprise she countered (as opposed to flat out declining our offer). We went back and forth for a few days and settled on $605,000. My mind was blown. I thought to myself "We just bought a 2250 square foot 5 bedroom 3 and a half bath ocean front house for $605k – over $200,000 less than the asking price. Less than HALF of what a house not much more than HALF as big would have cost on Folly Beach".
I think it was a perfect match. She was ready to be done with it, and I was ready for a project home.
You have to turn over every rock when you are looking for a beach house and see what's under it. If not, you might miss the deal you're looking for.
As a side note, while making the final decision I was at the beach at the vacation rental with my family. I somewhat jokingly asked my almost 3 year old daughter Caroline Joy "Caroline, do you want Daddy to buy you a beach house?". Yea! She said. "Ok baby, Daddy will buy you a beach house" I said. We named the house "Joy in Carolina"
Closing the deal
The closing date was set for May of 2016, two weeks before the 14 week rental season started. We packed up the kids and the wiener dogs and headed to town. We closed at 10am and were in by lunch. It was ours! Dust and funk and all. Holy cow!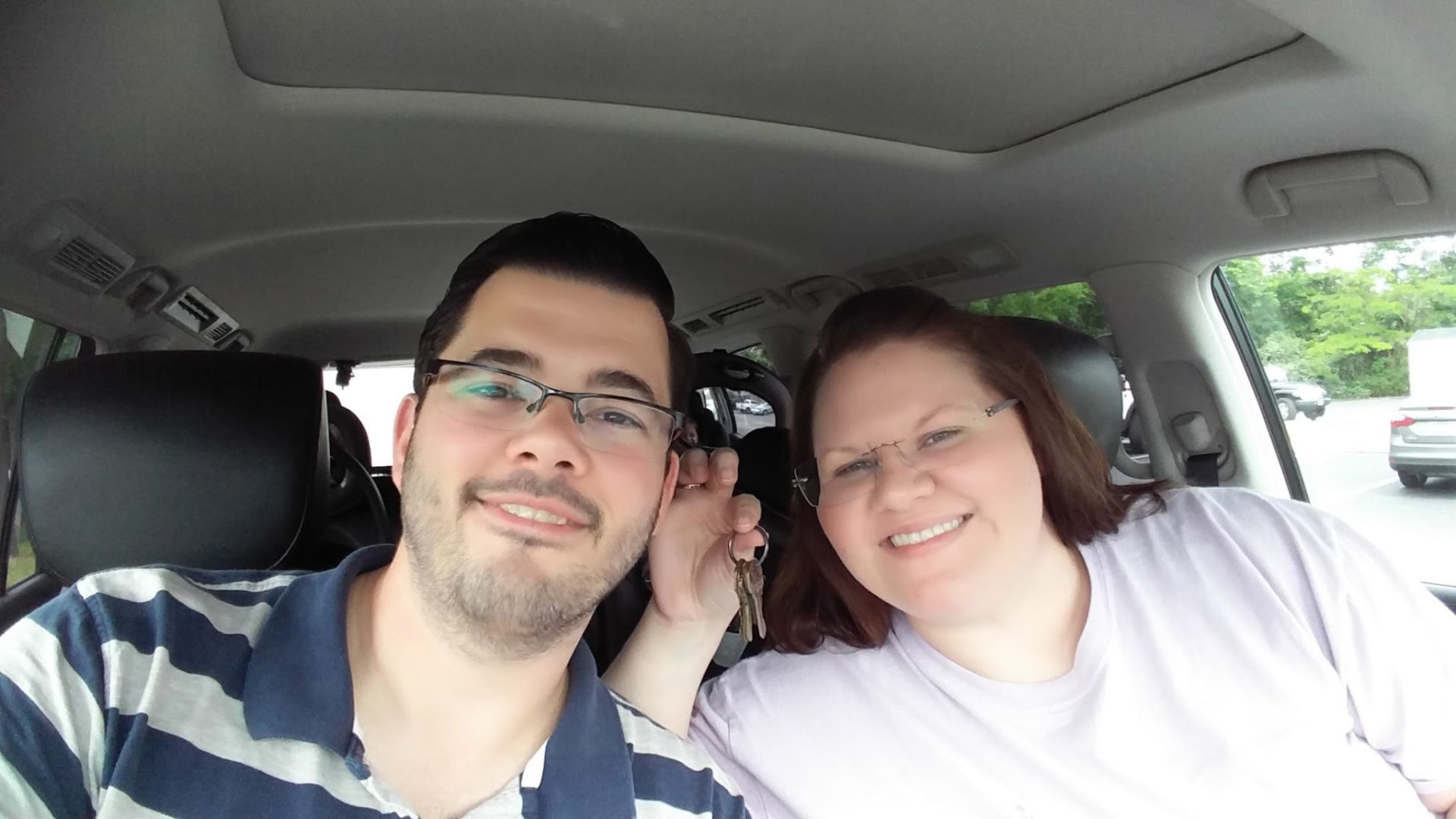 Our first rental season
We enjoyed the house, the area, the breeze, and the views, but I'm not sure we even WENT to the beach while there. We spent the entire two weeks getting the house ready for rental season. New AC units (see what the salt air did to the old ones), carpets cleaned, super deep cleaning of the whole house,  new pots and pans, a few new pictures and decorations, a new wall mounted TV in the living room, and even a new master bed. Looking back, I can't believe we even got all that done in two weeks.
One final cup of coffee before leaving as the rental season began: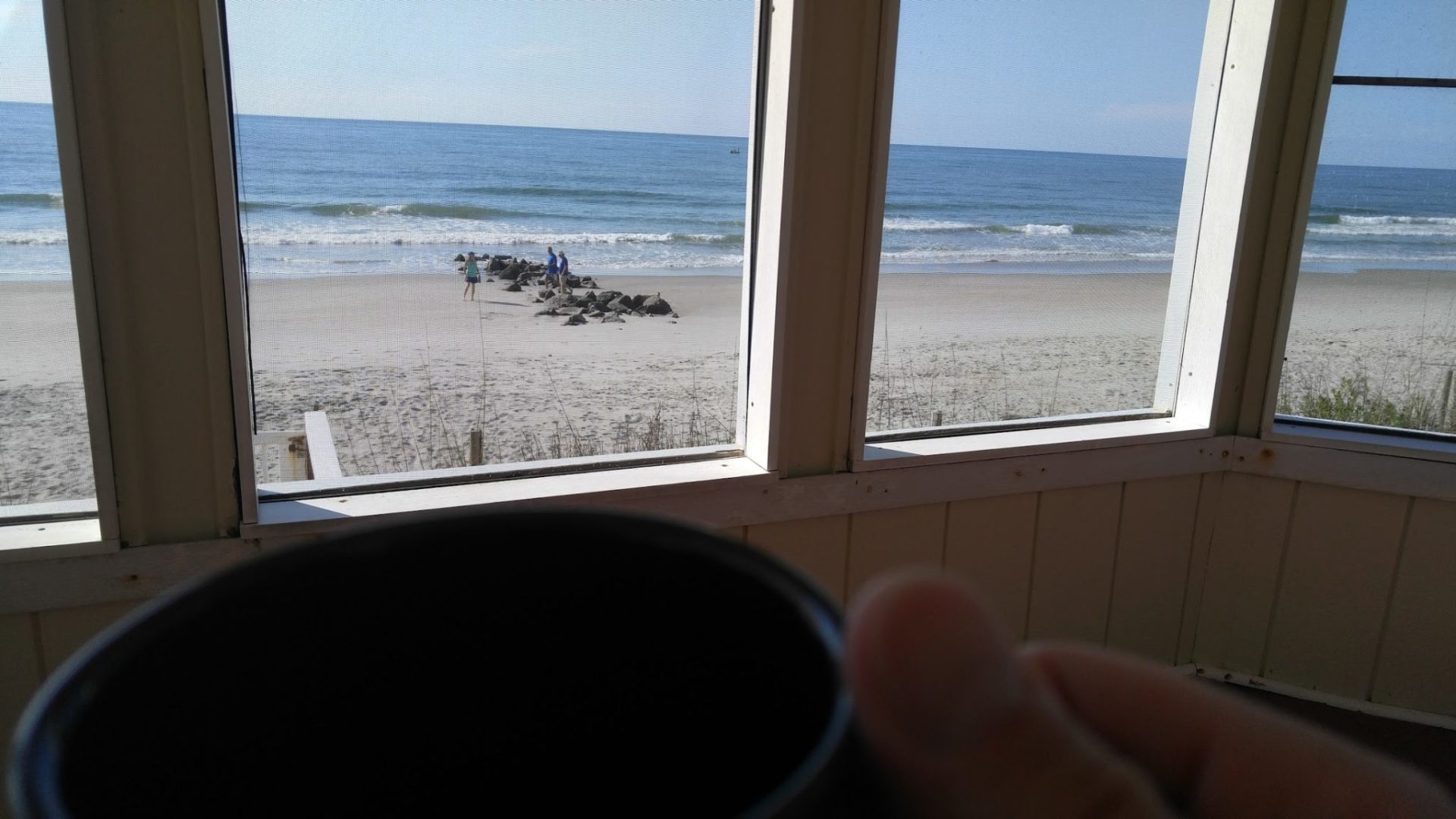 We made it through the first rental season with no hiccups. The rental company did a great job of taking care of the needs of the renters. I don't think we got a single phone call. Rental season ended and we came back in Sept for two weeks for an actual vacation. Then the minor renovations began.
The economics
We only rent the house for the 14 weeks in the summer. Some people rent their homes "year round" picking up a week or a long weekend here or there. The previous owner only rented in the summer and for at least the first year we wanted to keep things the way they were. We realized pretty quickly that we liked having the house to ourselves outside the summer rental season. That was pretty much the reason we were looking for one!
It grosses about $40,000 in rent for the 14 summer weeks, minus fees, for a net of about $32,000. The mortgage, taxes, insurance, and utilities are about $48,000 per year in total. That leaves a difference of roughly $16,000 per year.
For roughly $1300 per month we have access to our ocean front home as much as we like 9 months out of the year. What's more, we will have a pile of equity once we finish renovating. I think that we could get the thing to break even if we opened it up for rental throughout the year. We believe as we renovate more and more we can get a little more in rent and close the gap a little further.
We put roughly $120,000 down (20%), plus had to spend about $12,000 on two new AC systems. Due to the equity, we could get a line of credit on the house and pull the cash used for the down payment back out but haven't. (You have to wait 6 months before you can do that FYI.)
Unexpected Expenses
Since closing we have had impact from two hurricanes – Matthew, and Irma. Matthew was pretty extensive, blowing the siding off half the house, destroying the decks, the fences, and the dunes and crosswalk. We spent around $10,000 getting things back to "normal" and I did a lot of work myself. The insurance deductible goes to 5% of the coverage amount in a "named storm", so we were out of pocket for the repairs. That's a little known fact about insurance that no one knows or thinks about. Irma caused storm surge that brought the ocean under the house and into the road leaving 3 inches of sand behind. That was a nice job for me to clean up with a shovel and wheelbarrow.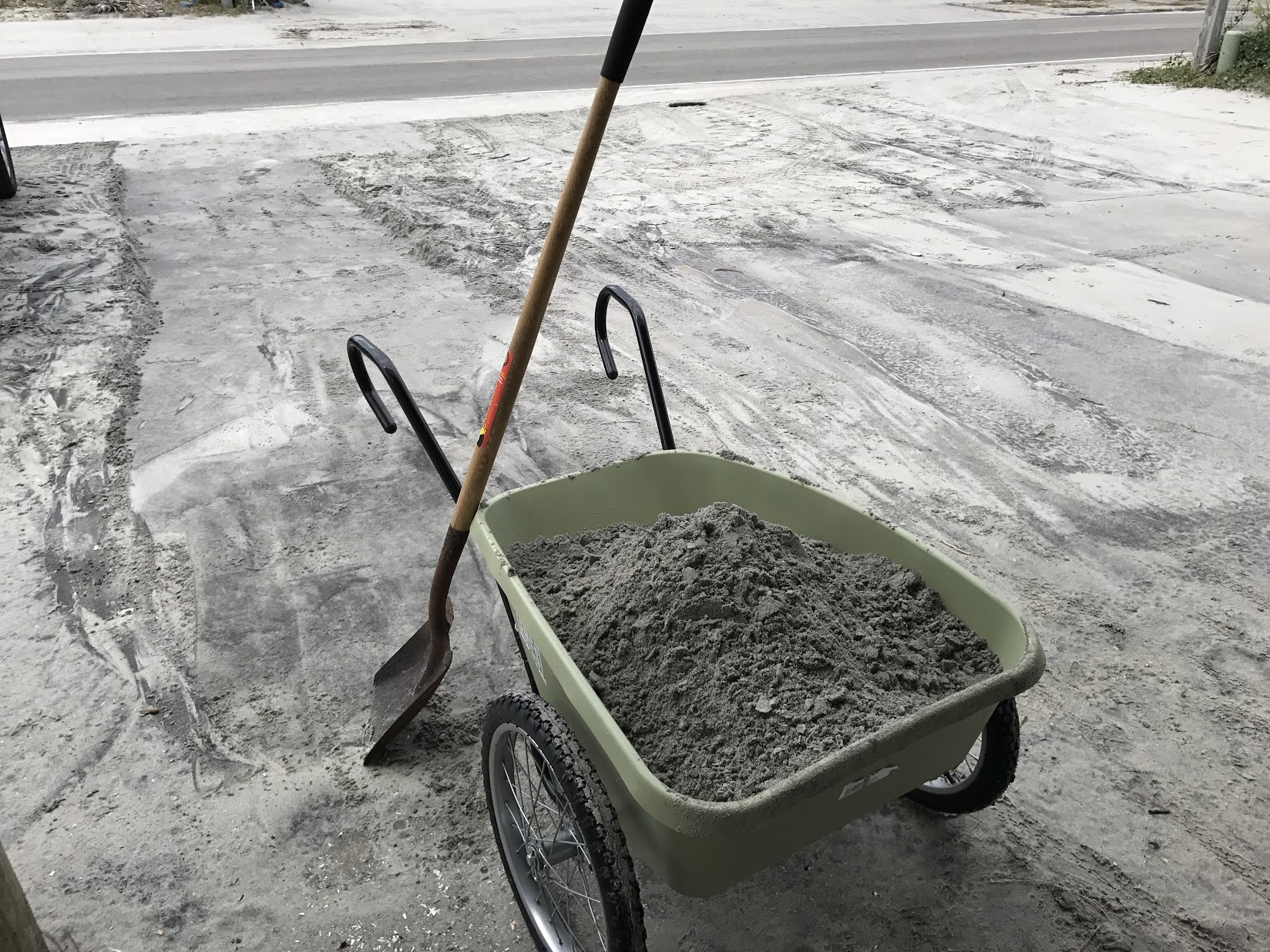 Beach life
For $16,000 per year we have a beach house we can come to anytime we like outside the summer months. We try to come two weeks in March, May, and September, and 5 day weekends some of the other months. We also get to leave our stuff out where we want it which is great. That also means not having to think about toothpaste and paper towels and such. We just load up clothes, kids, and dogs and everything else we need is there.
An added benefit we didn't think of was how many friends and family we can entertain! I knew I loved giving people experiences but I had no idea how fulfilling and heart warming it would be to have people up to the house.
Loving the Area
I'm glad we gave the area a chance because we think it's pretty cool. It's far enough from Myrtle Beach that it's a completely different place, but close enough that you have the benefit of all the shopping and touristy stuff.
Murrells Inlet is known as the Seafood Capital of South Carolina. People drive here from all over to eat on "Restaurant Row" which is just a few miles from our house. There is a cool vibe there with all the restaurants and shopping. Part of what adds to the feel is the "Marsh Walk", or "Marshmallow Walk" as our four year old daughter calls it. We have tons of great restaurants we enjoy and are learning all the cool places to visit in the area. There are also TONS of things to visit in Myrtle Beach – including the Aquarium!
Summary
Even though I found the deal of the century, it STILL doesn't come close to paying for itself. However, the amount of time we get to spend there, the equity, appreciation in value, memories created with family, friends, and loved ones is worth every single penny.
If you are considering buying an ocean front home (or something near the ocean), weigh all the costs. Understand that it's not going to pay for itself (if you figure out how, let me know). Go in with eyes wide open and an expectation and financial tolerance for surprises. If you play your cards right you'll be listening to the waves in no time.
Craig McSandyBottom